An oasis for the soul. Beautiful architecture, embedded in breathtaking nature, which conveys a traditional Greek attitude to life and allows the guest to relax completely from the moment they arrive.
As soon as you arrive at the airport of Kos island you can feel the warm sea breeze, the road to the hotel leads past green fields adorned with colorful borders of flowers and in the distance you can see the mountains. At the latest with the refreshing welcome drink on the terrace of the Oku Hotel, the perfect holiday feeling sets in and a feeling of having arrived, arrived at a place where the warmth and attention of the team immediately conveys that you are part of the Oku family. This is probably one of the reasons why we always like to come back. The various boho-style rooms, suites and villas are so spacious that you have a sense of calmess even if the hotel is fully booked.
The large pool and the private beach invite you to relax, the swim-up pools of the junior suites are perfect for a trip with friends – if you book three junior suites next to each other, it almost feels like you have your own villa with a pool, and if you like it sporty, you can work out at the gym, or take a yoga class on the beach overlooking the sea.
After a walk through the beautiful sand dunes, in just 10 minutes you can reach a place where you can practice various water sports, and 20 minutes walk in the other direction to the nearest village.
Those who prefer to explore the world on a horseback can admire the sunset on a horseback ride by the sea. If you would like to go on an excursion, you can, for example, admire peacocks strutting about freely in the Plaka forest, or walk through the old town of Kos and eat typical sandwiches in pita bread at the Avlogyros grill house. The well-known restaurant Oromedon not only offers an incredibly great view, but also incredibly good food. If you prefer to stay in the adults-only hotel, you can get traditional Greek food there, but also an Italian pizza. The shadow play of the palm trees is perfect for beautiful Instagram snapshots and the massages in the spa give you a feeling of lightness, you literally float afterwards.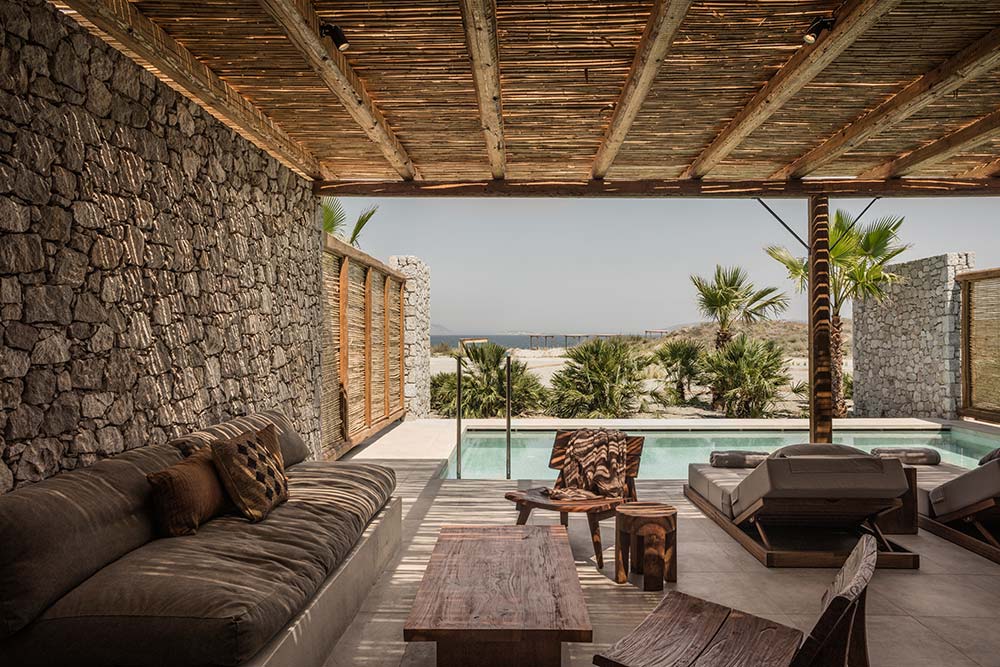 Depending on the day of the week, the highlight for ending the evening is, for example, a campfire at the beach or an open-air cinema under the starry sky. At the end of the holiday you are deeply relaxed.